EQUESTRIAN CONNECTION May 2003
by Dan Kemp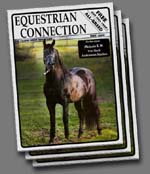 The Andalusian Horse is an ancient breed dating back to centuries before Christ. Well known as the Iberian Horse, it is thought to have evolved on the Iberian peninsula which is modern day Spain and Portugal. In Spain the Andalusian is known as the "Pure Spanish Horse," and in Portugal, as the "Pure Blood Lusitano." Many areas of the Iberian peninsula are mountainous or hilly and rugged. The breed needed to be powerful and hardy to grown and prosper in an environment like that. Indeed, that is how the horse developed, with a strong, arched neck; a short-coupled and powerful body; hind legs positioned well under the body with strong hock action and natural impulsion; a natural ability for collection and small, round hooves.
Those characteristics allow the Andalusian to be very agile as well as forward moving. Invaders who landed in Spain had to face the home defenders mounted on Iberian horses and found them a formidable foe. The horses have for centuries been regarded as a warhorse without equal.
From 2,000 BC well into the Middle Ages, the Iberian horse has been the preferred cavalry mount. The breed temporarily fell out of favor, however, when heavily armored knights constituted the bulk of mounted cavalry forces in Europe. They needed a bigger, stronger horse to support all the weight. With the introduction of newer tactics of war and newer lighter weapons, mainly firearms, the Andalusian regained favor and up until mechanization was the preferred mount for cavalry. Andalusians were also the mounts of choice for most European Monarchs.
With the evolution of new strategies and methods of war came the need to teach warriors and their mounts how to employ these new tactics. Most European countries established riding academies for their royalty and military to teach them to ride expertly, practice these new tactics and hone their skills. Every military that ever was has a tradition for pageantry, so along with military skills, dressage and high school riding evolved and flourished in these academies. The Andalusian was favored because of its impulsion, forward motion and catlike agility.
It is easy to find glowing description of the Andalusian from breed registries and associations. In various ways. they all convey the same message: "The Andalusian is strongly built, yet extremely elegant. They typical Andalusian stands 15.2 to 16.2 hands. Its head is of medium length, rectangular and lean, and in profile is slightly convex or straight with a broad forehead and well-placed ears. The eyes are triangular in shape, large and kind, lively and alert. The neck is reasonably long, broad and elegant, and is well crested in stallions. The mane is thick and abundant. The tail is usually abundant, long, and set low, lying lightly against the body. About 80% of Andalusians are white or some shade of grey; 15% are bay, and less than 5%are black, dun or palomino. The enduring strength of the combined characteristics is attested to by cave painting, etchings, vases, Roman tiles, and early paintings that depict Andalusians almost exactly as described above."
"The Andalusian possesses a proud but docile temperament: even stallions are handled by women and children. The Andalusian is sensitive and particularly intelligent, responsive and cooperative, and learns quickly and easily when treated with respect and care."
Today, Andalusians are still as versatile and are used in many disciplines including but certainly not limited to: Dressage, jumping, both pleasure and competitive driving, trail, Western pleasure and English pleasure. Also, in Spain and Portugal, they are used in the bull fighting arena where they routinely demonstrate their courage against the "fierce Iberian Bull." A final Andalusian displays a proud (spirited) and docile temperament, a quality which endears it to many a family, and has made it a favorite for family activities in many cultures around the world.
The heaviest concentrations of Andalusian Horses in the U.S. are in California, Texas and Florida. They are found elsewhere in the U.S. but not in any numbers at all. Roughly around 6,000 exist in the U.S.
Featured on our cover is MELANIO E.W., a pure black Andalusian stallion. He has been owned since birth by Craig and Suzanne Furber, owners of Edelweiss Farms, Healdsburg, California. MELANIO was born on the Furber's farm. They purchased his dam after she had been bred to GENIO III. The Furbers are longtime horsepeople and have owned and bred both Arabians and Andalusians.
MELANIO E.W. is affectionately known around the barn as Mel. He was sired by GENIO III, one of the most notable black Andalusian stallions to be imported from Spain in the last two decades. Mel's dam, ELECTRA T.G. is an exquisite black-bay Andalusian mare imported from Mexico. She is a Multi-Champion and reserve Champion Halter mare.
Mel is 8 years old and still looks like he has some growing to do, he is currently 16.1+ hands. "Mel is gentle and displays intelligent interest in everything."
Craig said only about 5% Andalusians are black and of those even fewer are true black. "He has no white on him at all..." Usually any white on the black Andalusians will manifest itself as a star, or strip, some other minor facial marking, or else a small stocking. GENIO III is black with a star. In a color test conducted by the University of California, Davis, Mel was rated as homozygous for black pigment. No red factor was detected: He cannot produce red foals regardless of the color of the mare.
Mel has been shown at Halter and Performance. He is a Halter Champion and was successfully shown in various English riding divisions. He also was awarded a Best-Movement Medal. The Furbers will be furthering Mel's English/Saddle Seat performance career later this show season.
The Andalusian stallion, when crossed with the Quarter Horse or Paint mare produces the American Azteca. They are highly prized for their beauty, talent, versatility and outstanding disposition. The Andalusian is also proving to be a popular and successful cross with the Arabian, Morgan, Thoroughbred, Percheron and other breeds.
One of the important aspects of the Furber's breeding focus is the American Azteca. In the early 1970's, there began a movement in Mexico to produce a horse of their own with agility, quickness and cow sense to work on the cattle ranches. The breeds chosen were the Andalusian, to be crossed upon American quarter Horse and Criollo mares. The results were astounding: A horse with speed, heart, stamina, grace and an outstanding disposition and ability to learn. That horse not only possessed the ability to work on the ranches, but also the versatility to have many other uses. The Azteca was born, and has acquired so much recognition it has earned the title of the "National Horse of Mexico."
The Andalusian was chosen for Azteca breeding because of their historic and respected traits: A long sloping shoulder, natural collection, and extremely sturdy legs and hooves. Sought after for their quiet temperament, they are easily handled, yet have a reserve of energy when called upon. The American Azteca combines both the new and old world, resulting in a noble, docile, agile, proud and spectacular horse. American Aztecas are reputed to be very easy to train, and once taught, never forget.
Azteca breeders claim their breed inherits beauty, temperament, pride, agility, and spirit from their Andalusian blood, and strength, hear, and speed from the Quarter Horse. The breed requires there be no more than 3/4 Andalusian or Q.H. blood in the first generations. The American Azteca should be a good balance between the breeds with qualities of both. The intention is to create a new type that exhibits the best of both breeds.
The recommended characteristics of the American Azteca are as follows. Some variations are seen. Average size ranges from 14.2 to 16 hands. Both Quarter Horse and Paint horses proving no more than 1/4 TB can be used for breeding American Aztecas. All AQHA and APHA markings and colors are acceptable. The head is of medium size with a straight, slightly convex or slightly concave profile with a broad forehead, expressive eyes and medium ears which are mobile and well placed. The neck well muscled, shapely, and slightly arched with a medium crest and broad base where it joins on to a long sloping shoulder. A long flowing mane and tail are often seen. The withers broad and slightly muscled, yet defined. The haunches, strong and well muscled leading to a well set medium to low tail. The legs are well muscled with dense bone, good joints and strong hooves. Retained from the Andalusian is a free shoulder and hip which allows them to be incredible athletic and smooth to ride. Their movement is naturally collected with a variance of knee action from high and brilliant to long and flowing.
A significant number of the mare bred to Mel last year were Quarter Horses whose owners are expecting their coming Azteca foals with high anticipation. Mel will sire at least 2 Half-Arabian/Andalusian foals this breeding season. There were 2 Paint mare bred to Mel.
One foal has arrived and is pictured in this feature. the photo can in at the last moment before going to press so we have no information on the foal yet, other than she is a beautiful filly.
We looked at his first foal, a beautiful American Azteca filly. They think she is going to be black. When we saw her she was only hours old and was just beginning to get strength in her legs. They filly is out of a maiden mare who is Foundation Quarter Horse bred. Foal and dam were doing very well, the mare was attentive and affectionate towards the foal. There was a lot going on in the aisle way and the foal was trying to take it all in. Considering she was only hours old, she was displaying a considerable amount of interest in activities and was not hiding behind her dam, even thought man admirers were looking at her from the front of her stall.
Later in the afternoon, we met the proud breeder, Adhermar Arellano, who had 3 more foals coming by Mel later in the month. (As of press time, 2 have arrived, another filly and a colt. The Adhemar Arellano family is said to be very excited!) Craig asked him if he was going to sell them, and he said they were not immediately for sale. Mr. Arellano had been to the facility and seen Mel. He was so taken by the majesty of the stallion, he kept coming back just to see Mel. When we talked to him, he told us he could not be happier with the first foal. The same can be said for the Furbers. Mr. Arellano brought the mares to the Hunter Stallion Station, where Mel stands, and had them bred there. All four became pregnant from the first breeding. "We really felt privileged that he went out and brought these mares to breed to Mel..." Also the fact the mares were good quality foundation bred Quarter Horses. Craig said the folks at the stallion station had not seen anything like it, that a person walked in and purchased 4 breedings to a stallion. Craig added, "Obviously, we were thrilled. We think Mel has a wonderful future. He has so much talent and is so smart."
The Furbers describe themselves as "old Arabian breeders." They still own Arabs, however have become very much interested in Aztecas and purebred Andaluians. They have been Arabian fans since 1975. It started at the Cow Palace where Suzanne watched the Arabian driving class. One mare in particular, a grey, took her heart and she knew that owning an Arabian was wonderful until she could have her Andalusian. They don't regret their years as Arabian enthusiasts and still love the breed but are happy they have finally been able to acquire the level of Andalusian stock they now own.
Suzanne's introduction to horses was as a child when she saw the movie El Cid with Charleton Heston. In that movie, he rode a white Andalusian, and seeing that majestic horse, convinced her she was going to own one. Later, she saw the movie Bolero with Bo Derek, and in that move Bo rode an Andalusian. By then, Suzanne and Craig were into Arabians but after that Suzanne became firmly convinced she wanted to own Andalusians also.
The problem was the breed was rare and individuals were expensive, so their move into the breed was going to be slow. Later, she was obligated to have her first horse, an Arabian mare put to sleep and decided this was the time they were going to make the move to Andalusians. She and Craig traveled to Southern California, where there were several Andalusian breeders and farms. While at one of the farms, they saw ELECTRA T.G., who had been bred to GENIO III and Suzanne thought she was the most beautiful mare. To their pleasant surprize they were told the mare was available. The breeding resulted in Mel. Purchasing a top quality mare, after losing a treasured one is how Craig and Suzanne began with Andalusians.
The Furbers will ship Mel's semen and Craig added that it "ships very well." They have shipped it to breeders in Texas, Southern California and Oregon. The mare in Texas conceived after the first insemination. They are very pleased with the way his semen ships. Craig and Suzanne do not have any of their own mares in foal to Mel. All the breedings they have had to him have been to outside mares.
EQUESTRIAN CONNECTION
The Pacific Horse Advertiser
8331 Allene Creek Court
Citrus Heights, CA 95610
Phone: 916-723-7452
Fax: 916-721-9150