Melanio E. W., is a magnificent, 21-yr old, pure-black Andalusian stallion. Currently there are only 10,000 Andalusians in the United States, which includes horses with pure Spanish, pure Portuguese and pure Spanish / Portuguese bloodlines. Less than 5% of these are black, making Melanio E.W. an extremely rare example of this desirable breed.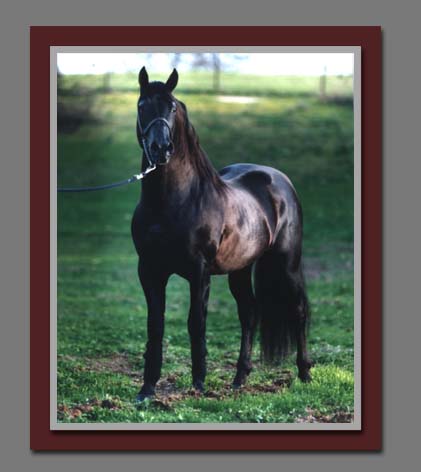 Melanio was sired by Genio III, one of the most notable black Andalusian stallions to be imported from Spain in the last two decades. His dam, Electra T.G. is an exquisite black-bay Andalusian mare imported from Mexico. She is a Multi-Champion and Reserve Champion halter mare.
Melanio has been shown at halter and in performance. He is a halter champion and was successfully shown in various English riding divisions. He also was awarded a Best-movement medal.
In a color test conducted by the University of California, Davis, Melanio E.W. was rated as homozygous for black pigment. No red factor was detected; Melanio cannot produce red foals regardless of the color of the mate.
The Andalusian crossed with the Quarter Horse and Paint produces the American Azteca. They are highly prized for their beauty, talent versatility, and outstanding disposition. The Andalusian is proving to be a popular and successful cross with the Arabian, Morgan, Thoroughbred, Percheron and many other breeds.
This stallion has inherited the best of both sides of his pedigree which makes him a great breeding stallion. He has proven himself as a top breeding sire with over 60% fillies.
Melanio is standing at HUNTER STALLION STATION, Wilton, Calif. For the 2016 breeding season. www.hunterstallion.com (916) 687-6870
The 2016 breeding fees are as follows: private treaty – purebred Andalusians; $1000 – outcrosses, with live-foal guarantees. Discount for multi-breedings. Artificial-insemination only.